We believe that performance software is the brick and mortar of every business's IT architecture.  Our process of software development provides relevant and advanced web and apps development platforms to deliver capable, secure and reliable software solutions specific to client requirements. We believe on agile development methodology where we optimize user productivity; increase business efficiency; reduce overheads; facilitate seamless functioning of business processes; and achieve exemplary business results. Today, businesses, having realized the importance of unique software solutions that fit their needs and fulfill their objectives, are forgoing cookie cutter software for custom software development.
Our Approach helps you manage change.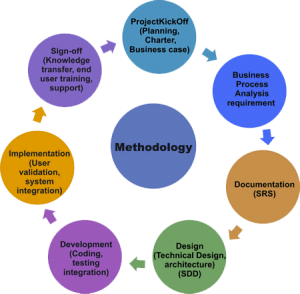 Combining our expertise in application design, implementation methodologies and integration of a variety of enterprise applications and data sources, we establish, support and improve critical business processes.
We concentrate on the core systems technologies critical to business success and provide you with the highest level of Technical and Functional resources to bring all the pieces together.
During the course of development, we work with you closely to fully understand your needs, it's been our constant practice that we manage solutions from start to finish. Our management and information technology consultants apply years of experience and a proven consulting methodology to help you succeed. This combination of experienced people with a structured methodology of "best practice" elements and tools means our clients receive the benefits of reliable expectations, rapid results, and superior value.
YES WE'RE INTO MOBILE APPS DEVELOPMENT, TOO!

EMAIL US
}