The Vision
Philippine edtech startup Edukasyon.ph wanted to disrupt the system in providing opportunity in finding proper education for Filipinos. They had amass huge databases through partnership with private and government institutions and searching through its database is a big problem. They wanted to make it publicly available. And so, they need an online presence with strong branding and marketing strategies to kick start its business model.
The Strategy
IntelStar was consulted and make it one of its partner as Edukasyon.ph start building its core vision. Website presence was foremost priority and had designed its UI/UX for a responsive front end both for the desktop and mobile audience. IntelStar also provides design specs and branding as the edtech startup build its social marketing campaigns locally and abroad.
Complete Corporate Identity
Social Media reach By 70%
Responsive Design
Edukasyon website was designed to be responsive for the mobile generation
Database was re-think
Simplicity of search and results make it comprehensible to users
Infrastructure Defined
Cloud solutions make the site fast and secured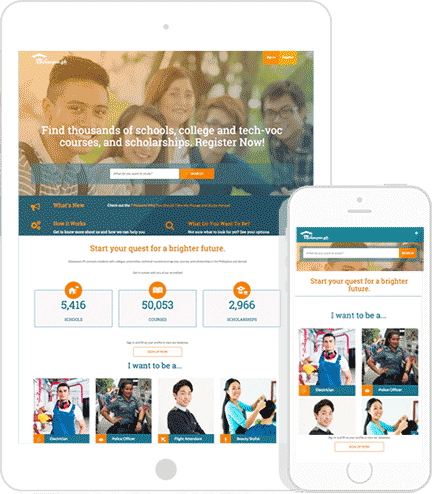 Mobile Responsiveness

80%

Website Traffic

70%

Conversion Rate

75%

Email Subscribers

60%
The Results Were Amazing
As cloud infra was laid down, site was up and tested. Responsive design fits to all mobile devices and backend search was optimized to produce relevant results.
Related Case Studies