The Challenge
H&WB ASIA Pacific Corp (Pte.Ltd), an international consortium in renewal energy and bio-fuels wishes to take advantage of the cloud for their hectic day to day operations. With three office in Southeast Asia, managing transaction for multiple clients is really a daunting task.
The Solution
IntelStar provide hosting facility for their immediate domain and website. With its current infrastructure, we integrate Google Apps and use its cloud infrastructure to manage their resources in a much professional way.
Google Apps for Work
With Google's solution, we simplify their commonly used applications, so they can spend less time managing it as they concentrate growing the business.
Web Hosting Simplified
With our cloud solution, managing their corporate website is a breeze. Secured, with 99.9% uptime guaranteed.
Collaborative Spreadsheets
Productivity Boosted By 50%
Corporate Email
Build customer trust with professional email addresses. Create as many group mailing lists as your company needs.
Calendar Sync
Spend less time planning and more time doing with shareable calendars that integrate seamlessly with Gmail, Drive, Contacts, Sites and Hangouts so you always know what's next.
Slides
Create and edit polished presentations in your browser—no software required. Multiple people can work at the same time so everyone always has the latest version.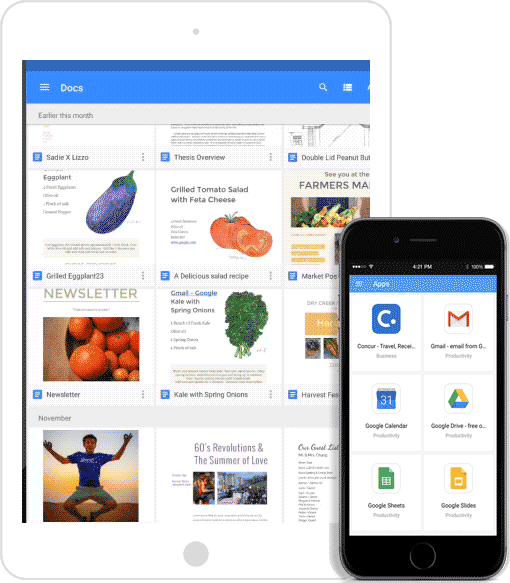 Corporate Accounts

80%

Online Collaboration

50%

Schedule Sync

75%

Rapid Response Time

60%
Enjoyed the best of Google!
Google for Work is a set of pioneering cloud technologies that enable millions of people to work the way they choose and build what's next. We integrate Google Apps as additional service for clients. We choose google as Cloud Platform as it made up of the solutions that power services like Search and YouTube. Google for Work products help teams work together, and companies innovate faster with the scale and security of Google infrastructure.
Interested In Working With Us?